Hey all. My new non-fiction book, Time Management Voodoo, is available now.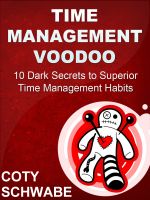 Here's What You'll Discover:
- The #1 Thing you Should be doing DAILY to accomplish
- The Two BIGGEST Enemies to Being Productive
- Why You SHOULDN'T Multi-Task (and why you'll get more done)
- What Your 'Peak' is, and why its important to Know
- The difference between Urgent Tasks and Important Task
- How to PROPERLY set and reach goals (mess this up, and the whole thing may be a waste)
- Why you NEED to take breaks instead of skipping them
- How I went on to write over 8,000 words in a single day for one book - and on a day most people don't do any real work!
- And lots more inside.
Grab your copy today, and start seeing higher productivity in just hours!
>> Download from Amazon
>> Download from Smashwords